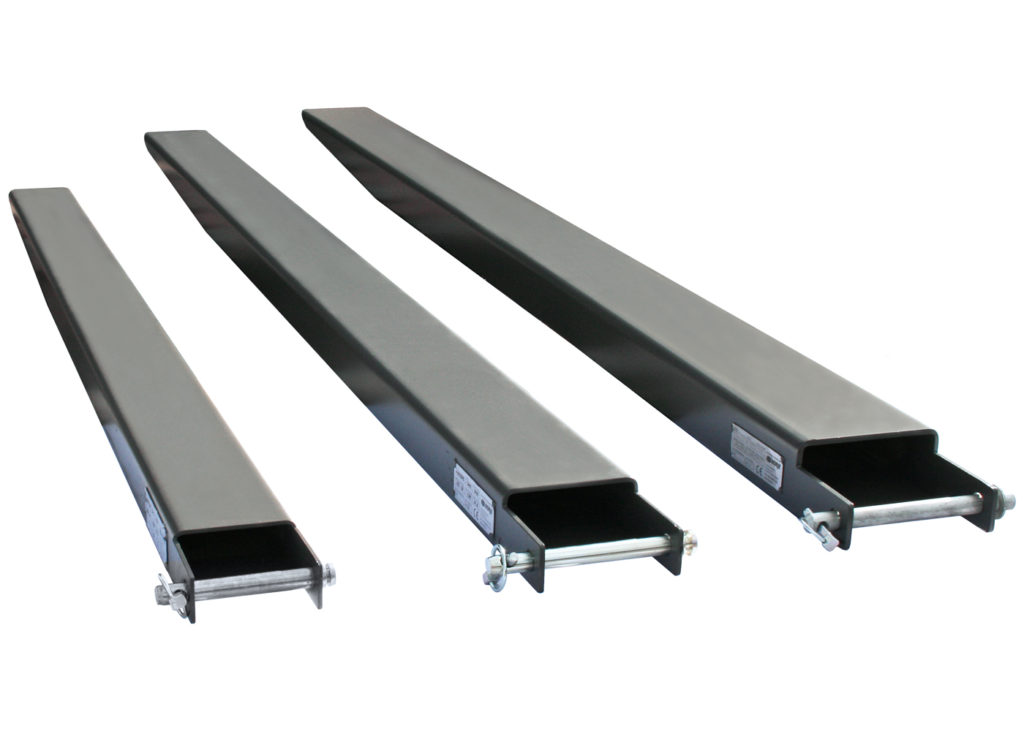 Extension Forks
Extension Forks with capacity from 1500kg up to 25000kg, manufactured out of extra high grade steel which allows for a lower weight and slimmer models.
---
Compact loader
Forklift
Telescopic handler
Telescopic handler <6 tons
Tractor
Wheel loader
Wheel loader <6 tons
Machine weight >18-29 tons
Machine weight >2-6 tons
Machine weight >6-18 tons
Machine weight <2 tons
Forklift implements
Lifting implements
Extension Forks made out of extra high grade steel for more strength and increased safety
Extension Forks manufactured out of extra high grade steel (Strenx 650, yield strength 650N/mm2), for highest possible strength which guarantees safe handling of goods. The extension forks are manufactured according to customer's request when it comes to lengths and fitting of the forks arms. Available with different types of locking, open or closed versions. Special models are made for forklift stackers as well as extra slim models for handling low pallets.
| | | | |
| --- | --- | --- | --- |
| Capacity/pair | Exemple – adapted for fork arm | Lengths | Locking alternatives |
| 1500 kg (staplare) | | Från 1200 till 2500 mm | 43 (Special) |
| 2500 kg | 80×40, 100×40, 120×40, 125×45 | Från 1200 till 3500 mm | 41, 42, 45 |
| 4000 kg | 120×40, 125×45, 100×50, 125×50 | Från 1200 till 3500 mm | 42 |
| 5000 kg | 125×45, 100×50, 125×50, 150×50 | Från 1200 till 4000 mm | 41, 45 |
| 7000 kg | 150×50, 150×60 | Från 1200 till 4000 mm | 41, 42, 45 |
| 10000 kg | 180×60, 200×60, 150×70 | Från 1200 till 5000 mm | 41, 45 |
| 15000 kg | 180×70, 200×60, 200×70 | Från 1200 till 5000 mm | 41, 45 |
| 25000 kg | 250×100 | Från 1200 till 5000 mm | 41 |
All extension forks are CE stamped and manufactured according to the Machine Directive.
Locking model 41 (closed version with locking pin) is recommended for all tractors, wheel loaders and telescopic handlers. Forklifts can use all models as long as there is space behind the fork arm heel for locking, check your machine. please contact us if you have any questions.
Options
Quick lock system (only recommended for forklifts)
Why people choose Norje

Profitable
High quality gives profitability over time

Our products contribute to rationalize our customers work in agriculture, contracting and industry. By offering products of high quality we give our customers higher value through availability, durability and utilization rate.

Safe
Raw material to finished product

From Norje you always get the best. We are proud to manufacture in Sweden, have CE-approved implements, raw material of high quality and an environmental thinking runs through the company. After more than 70 years in the business we have a large inventory of parts and know the importance of fast deliveries.

Flexible
Inhouse manufacturing gives great opportunities

Inhouse manufacturing gives high flexibility to adapt products according to customer's request. By using our standard models we can easily offer completely unique products for our customers. At Norje adapting for customers is standard! Today we can offer more than 80 different couplings/suspensions directly mounted on the implement.
What other people say about Norjes products
Here you find some comments from people using Norjes products in various businesses all over the Nordic countries. We hope and believe you will be one of our satisfied customers.
Today we have more than 10 implements from Norje, for both wheel loaders and tractors. The reason we chose Norje is a combination of a good dialog with the dealer, which stands for good quality, as well as most value for money.
Mikael Falk
Umeå Mark & Anläggning, Röbäck, Sweden
I am very satisfied with Norje as supplier. Safe and fast delivery with quality in focus and good prices. It's nice to know that after ordering everything works until delivery. I can strongly recomment Norje Smidesfabrik as Swedens leading supplier of implements
Daniel Bruno, Depot Manager
Stavdal AB, Järfälla, Sweden
When I bought the telescopic handler from the Merlo dealer I was recommended Norje implements as they are adapted for the machine. The implements are solid and well made. We have quite a few implements, a leveller bucket, big bag lifter, pallet forks and stone fork among others.
Peter Jonasson
Östadlund AB, Alingsås, Sweden