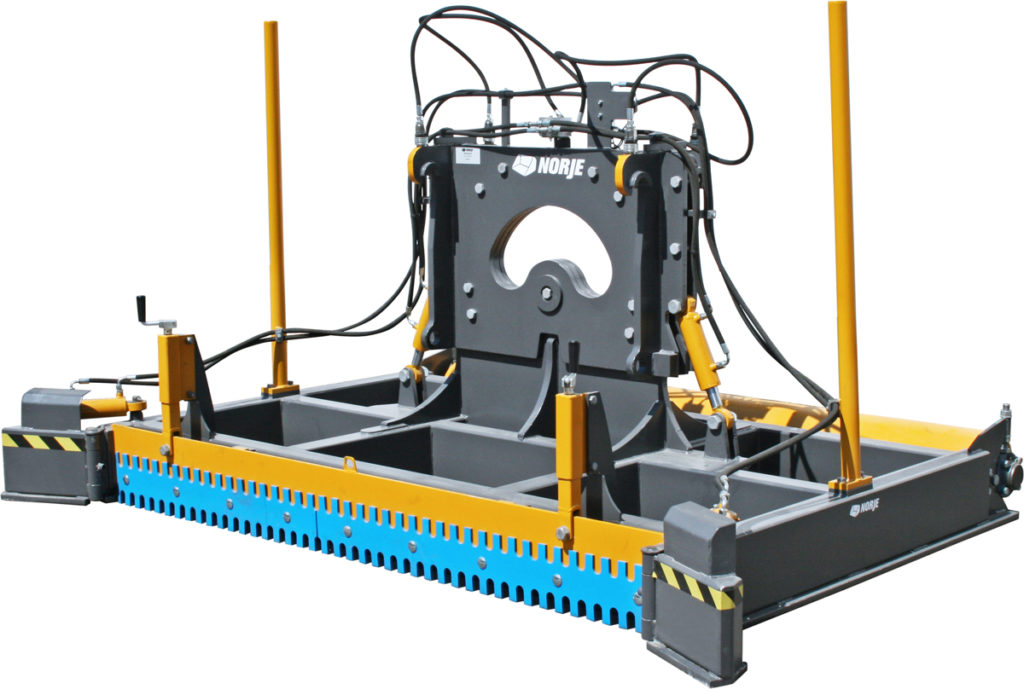 Adjustment Girder
An effective implement that uses the machines full potential when adjusting gravel roads, football fields, industrial floor etc. Easy to transport and higher utilization rate of the machine.
---
View all attachments
Wheel loader
Machine weight >6-18 tons
Adjustment Girder
Through its effective design the Adjustment Girder does the job in shorter time with better results
The Adjustment Girder is an implement for effective ground levelling using a wheel loader. The girder is available in width 1800-2200mm for smaller wheel loaders and 2880-4700mm for larger machines. Options include integrated hydraulic tilt, hydraulic side wings and front grinder. Patented design (no 001694167-0001).
| | | | |
| --- | --- | --- | --- |
| Width | Depth | Weight (excl. options) | Rec. max machine weight |
| 1800 mm | 1800 mm | 640 kg | < 10 ton |
| 2000 mm | 1800 mm | 660 kg | < 10 ton |
| 2200 mm | 1800 mm | 680 kg | < 10 ton |
| 2880 mm | 2380 mm | 1560 kg | < 18 ton |
| 3600 mm | 2380 mm | 1700 kg | < 18 ton |
| 4700 mm | 2380 mm | 1920 kg | < 18 ton |
The implement is unique and innovative within earth planning using wheel loaders. Areas of use are among others fine adjustment for asphalt and industrial floors, gravel areas, football fields and earth planning. Through its brilliant but simple construction the Adjustment Girder does the job in shorter time, with higher accuracy and with better result than most  methods available today. The Adjustment Girder is easy to transport and can in many cases replace a grader or a bucket which many use today. By adding a front grinder, an implement tilt, side wings and laser equipment you can adapt the areas as intended with a near perfect result.
Options
Front grinder
Integrated hydraulic tilt
Hydraulic side wings left/right (length 350mm)
We have your couplings
Norje can offer a wide assortment of original couplings mounted directly on implements. From smaller compact machines to large wheel loaders. Below you find a list of couplings we can offer. To be able to fulfill warranties Norje recommends and decides which couplings are suitable for which implements. For more information, please contact us.
Ahlmann 85
AR 35 (Atlas)
AR 65 (Atlas)
AR 95 (Atlas)
Avant
Bobcat 453
Bobcat 463
Bobcat 553+
Bobcat wheel loader
Bobcat Telescopic
Case 121
Case 350
Cat 924
Cat 906
Claas Ranger
Claas Scorpio
Dieci (small)
Dieci (big)
Dieci Agrimax
Dieci Pegasus
Euro
Faresin Telescopic
Ferrari
Genie (Terex Telescopic)
Giant
Hoftrac
Hydrema 800
Isme
JCB Telescopic
JCB Toolcarrier
JD compact
JD Telescopic (Matbro)
JLG
Kramer 550/560
Kramer 180
Kramer 280
Kramer 380
Kjällve
Magni Telescopic
Manitou Telescopic
Merlo
New Holland Telescopic
Norcar (Agromatic)
Schaeff (50 mm)
Schäffer
Schäffer miniloader 2014
Schäffer mini HD
Schäffer Telescopic
Sennebogen
SMS (Trima)
Terex TL65 (35 mm)
Terex TL80 (50 mm)
Tranås 1250
Three point hitch Kat. 2
Triangel
Vila
Volvo BM 641 (older model)
Volvo BM L70 (ex. L35-L120)
Volvo BM L70/3-point hitch
Volvo L150-180
Weidemann
Big Weidemann
Zettelmeyer 302
Zettelmeyer 402 (Volvo L20-25)
Zettelmeyer 602 (Volvo L30, JCB, Komatsu, Cat)
Zettelmeyer 802
Zettelmeyer L35-45 TPZ
Ålö type 3
Can't find your coupling? We can fit to most machines, please contact us.
Why people choose Norje

Profitable
High quality gives profitability over time

Our products contribute to rationalize our customers work in agriculture, contracting and industry. By offering products of high quality we give our customers higher value through availability, durability and utilization rate.

Safe
Raw material to finished product

From Norje you always get the best. We are proud to manufacture in Sweden, have CE-approved implements, raw material of high quality and an environmental thinking runs through the company. After more than 70 years in the business we have a large inventory of parts and know the importance of fast deliveries.

Flexible
Inhouse manufacturing gives great opportunities

Inhouse manufacturing gives high flexibility to adapt products according to customer's request. By using our standard models we can easily offer completely unique products for our customers. At Norje adapting for customers is standard! Today we can offer more than 80 different couplings/suspensions directly mounted on the implement.
What other people say about Norjes products
Here you find some comments from people using Norjes products in various businesses all over the Nordic countries. We hope and believe you will be one of our satisfied customers.
Today we have more than 10 implements from Norje, for both wheel loaders and tractors. The reason we chose Norje is a combination of a good dialog with the dealer, which stands for good quality, as well as most value for money.
Mikael Falk
Umeå Mark & Anläggning, Röbäck, Sweden
I am very satisfied with Norje as supplier. Safe and fast delivery with quality in focus and good prices. It's nice to know that after ordering everything works until delivery. I can strongly recomment Norje Smidesfabrik as Swedens leading supplier of implements
Daniel Bruno, Depot Manager
Stavdal AB, Järfälla, Sweden
When I bought the telescopic handler from the Merlo dealer I was recommended Norje implements as they are adapted for the machine. The implements are solid and well made. We have quite a few implements, a leveller bucket, big bag lifter, pallet forks and stone fork among others.
Peter Jonasson
Östadlund AB, Alingsås, Sweden